Category Archives:
Winery News
Is Napa still considered Bay Area? I'll say yes.  Some define the Bay Area as the outreach of BART (for those unfamiliar with the acronym, that's our train system here).   Napa County still touches part of the Bay waters – the San Pablo Bay waterway that borders the Carneros District – and provides a nice cooling effect for the varietal of grapes that prefer lower temperatures that are grown in that region.
In any case, as a sports fan, foodie, and wino, there's no better place to be than here in Napa this weekend.  Our Giants are on a winning streak – Matt Cain pitched a perfect game yesterday; the US Open comes to town; summer season fruits are here, so Farmers' Markets are bustling; and of course, there's always the wine country beckoning for a visit.  It's the quiet before the storm – just before the high season of visitors begins here at the Chateau, so we're relatively quiet for now.  Not to mention, three new restaurants opened up in the little town of St. Helena…
Apart from anticipating the weekend's searing heat, it's a great time to be in the Bay!
Brett (aka brettanomyces) has been a great friend of mine for a long, long time.  But some people misunderstand and steer clear of it, thinking Brett can only be a dominating, ruinous stinker that smells like wet barnyard.  Some get scared, even paranoid, and want no trace of Brett in their lives.  Not I, because I know Brett can be managed to show character in wines, and some quite unique qualities, especially in small doses.  Too much?  No thanks.  None at all?  No way – wine is just not the same without some Brett.  To each his own, I say.  Did you know that the French have been friends with Brett for ages?
Do you know Brett?  Do you enjoy it in your wines?
Today marks the beginning of Auction Napa Valley 2012, the Napa Valley Vintner's annual charity fundraiser, and it's shaping up to be a very exciting weekend, indeed.  The weekend will include four glorious days of celebrating the best of Napa Valley – everything from private winemaker dinners to elaborate parties and more than 250 different lots on which one can bid (both here in Napa and online from the comfort of your home!). Auction Napa Valley is a not-to-be-missed weekend for wine lovers, vintners and avid wine collectors from around the world.  The event is always held the first weekend in June and the proceeds from the auction will benefit health, youth and affordable housing non-profit programs in the area.  We're excited to announce that we're participating in two lots this year: one e-auction Lot (which you can bid on from a computer/mobile device anywhere you might be) and one very exciting live auction lot that includes a private concert and might inspire you to clear some room in your cellar - in a partnership with Chappellet, Garguilo, Raymond, Shafer and Silver Oak.
So for those of you feeling lucky this weekend, you may consider bidding on E-Auction Lot #379 which includes spectacular wines from such Calistoga winegrowers as: Araujo, Barlow, Canard, JAX, Jones Family, Kenefick Ranch, Summers Estate, The Grade, Zahtila and, of course, Chateau Montelena Winery.  The bottles, from all participating Calistoga winegrowers, will be presented in large format sizes.
And for those of you planning to be in Napa Valley this weekend and those planning to attend the live auction on Saturday at beautiful Meadowood, keep an eye out on Lot #35 which includes wines from celebrated Napa Valley producers and a private concert from Lady Antebellum for you and your closest friends.  As if that weren't enough, the winner will also be flown to London for a private tour of the band's recording studio and another opportunity to enjoy Lady Antebellum in concert…in London.
Good Luck!
Will you be bidding?  If so, on which auction lot?
I'm sure by now most of you know we have a tasting room in San Francisco at the Westin St. Francis.  But, did you know we have a great presence throughout the city in other venues where you can enjoy CM wines?  Here's a list of few standouts you need to visit:
So you see, I love my wine, but I just can't get enough of the city and food!
Bon Appetit and cheers!
Well, it's not what you think – not from the alcohol, but from the end of another Movable Feast.   After a year of planning, it came down to a four-hour party. By my calculations, that's about 520 hours of planning for every one hour of partying….wow!  Ok, ok, I didn't spend the ENTIRE year planning, but towards the end, it sure felt like it!  Anyhow, for those who came (and there were a lot of you), it looked like a good time was had by all.  Look for pics coming soon.
Now comes the fun part; thinking about next year's theme!  Just when you're ready to come up for air, you've got to get back up on that horse and start running again.  If you have any fun ideas for next year's Feast, send them my way.   My brain is on temporary freeze.
You may remember Jeff's blog post from last spring about English actor Jeremy Irons' visit to the winery.  Last April, he and a film crew descended upon our winery to film a segment with our Vineyard Manager, Dave Vella, for an upcoming documentary about America's problem with excessive waste.  Well, friends, the wait is finally over.  We've just received word that the film, appropriately titled "Trashed," will be premiering at the renowned Cannes International Film Festival this week.
The story of garbage…American style. A provocative investigation of one of the fastest growing industries in North America. The garbage business. The film examines a fundamental element of modern American culture…the disposal of what our society defines as "waste." It is an issue influenced by every American, most of whom never consider the consequences. Nor, it seems, the implications to our biosphere. At times humorous, but deeply poignant, "Trashed" examines the American waste stream fast approaching a half billion tons annually.
Now, you may be curious as to why Chateau Montelena is featured in the film – it's a perfectly fair question.  You may or may not know that the winery and vineyard team work to farm our vineyard in a sustainable way – from the careful selection of crop covers that re-introduce nitrogen and enhance the health of the soil, to the use of solar panels and solar energy that help to power all of our activities and even the reclamation of compost from winery by-products and San Francisco restaurants for cultivating our soil with beneficial microbes and enhancing the soil's air circulation.  The film, which not only focuses on America's trash problem but also discusses the importance of sustainability, showcases how Chateau Montelena strives to be a green and sustainable property.
Here's the official movie trailer – and be sure to look for Dave's cameo at the end of the clip!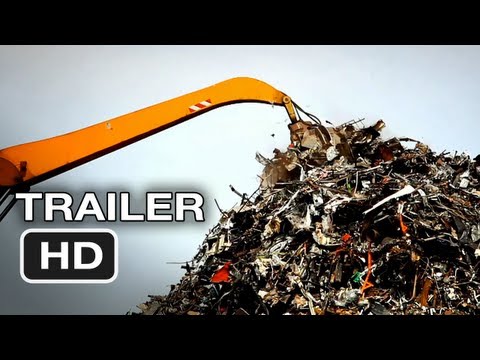 We have just a few days left before the biggest event of the year – our Annual Movable Feast.  This year's theme: The Rat Pack and a throwback to Vegas.  The front of the Chateau will come alive with costumes, music and decor – in all the glorious, if not a bit tacky, splendor of Las Vegas like yesteryear.  Even the food is themed to those simpler times.    Of course, we'll have some great wines flowing throughout, including some new and never-before-seen items, such as a 2009 Late Harvest Sauvignon Blanc, exclusively available to our club members.
So this isn't a pitch to come join us; we've been sold out for weeks. Look for the pics, the stories, and most importantly, get on board early if you want to join us next year.  My brain is already churning for next year's theme.
Ok, after a couple months off (and no, I wasn't "off"), I'm now back on the blog.    Over the last few months, we overhauled some of our computer systems, and now that the work is complete,  I'm able to blog again. Truth be told, I wasn't sure I'd continue because I was not sure if there were readers out there.  It's funny how you only hear about things when you stop writing and I learned that I, indeed had loyal readers. Reminds me of when I've moved in the past – neighbors who I barely knew or said 'hello' to would come to the moving truck and tell me, "I can't believe you're moving, we're sorry to see you go…"   And my response: "And who are you?"
Anyways, I'm back online; but busy getting the party of the year going, Movable Feast 2012!  Hope you got your golden ticket; the event's been sold out for weeks now!  Curious to know how you can join us next year?  Become a CellarMaster and enjoy an afternoon in the sun with great wine, fantastic food, the entire Montelena Family and plenty of Montelena Estate Cabernet pulled from our library collection just for this once-a-year festive occasion.
We recently received a very kind email from Brennan and Lindsey Sheedy about their memorable first experience with Chateau Montelena wines.  Bitten by the wine bug during the planning of their wedding, here's their story…
THE WINE THAT STARTED IT ALL – FOR US!
by Brennan and Lindsey Sheedy
This past November, Lindsey and I were married at a small vineyard in Santa Barbara County – our wedding location and our appreciation for fine wine can be traced directly back to our introduction to Chateau Montelena.  About two years earlier, while walking through the local movie store in Charlotte, NC, Bottle Shock caught my eye.  We both like wine and I, a native Californian, thought the movie would be perfect for our Saturday evening.  That night, we settled in with our gourmet bottle of $7 wine and were entertained as we learned the story of how the "kids from the sticks" beat the French at their own game.  Over the next 18 months as we planned our wedding, wine began to play a much larger role in our life together.  In wine shops and restaurants, we would point out the bottles of Montelena and, on one or two special occasions, we'd splurge on a glass of Napa Valley Cabernet Sauvignon.  From that moment on, our appreciation of wine began to grow: we split a three-year vertical with a few friends; bought a small wine fridge to store all of our "good" bottles and eventually wine magazines began arriving at the house.
The wine theme was very much prevalent on our wedding day: our guests were greeted with table assignments in wine glasses; we hosted a wine tasting on the veranda before dinner and we even made wine cork napkin rings to give out as favors.  Later that night, after dancing in the barrel room until the winery kicked us out, Lindsey and I headed back to our room where she had prepared a special wedding gift for me.  There, waiting in our room  was a basket containing the following items: the movie Bottle Shock, a copy of the book Judgment of Paris and a bottle of Chateau Montelena Chardonnay.
On our honeymoon, I spent days reading Judgment of Paris.  What was glossed over in the movie jumped out of the book as George Taber explored the lives of the winemakers and wineries that made the world take notice of California wine.  Whether the French judges knew they were tasting Californian and French wines or that they felt duped into the competition, you couldn't argue with the results – that California winemakers could make wine as good as the French.  That significant tasting event sparked wine production around the globe and Taber gives a brief introduction to many of the world wine regions at the end of the book.  During the rest of our honeymoon, I think Lindsey started to regret the gift she'd given me as I'd only let her order Sauvignon Blanc from New Zealand or bored her with explanations of how "right bank" Bordeaux was made predominately from Merlot.
Now home in Charlotte, the articles and tasting notes in the wine magazines have started making more sense and our cellar continues to grow.   However, the bulk of our wine collection grows only with wines that we feel we have a personal connection.  After reading Judgment of Paris and having watched Bottle Shock, we have learned some of the history of Chateau Montelena Winery.  This past February, we made a stronger connection with the winery by visiting the Chateau.  We had a great time viewing the historical notes and (cheesily) taking our picture with the champion 1973 Chardonnay bottle on display.  And just recently, we were fortunate enough to enjoy a local wine dinner featuring Chateau Montelena which demonstrated the quality of the fine wines.  With the rich history and the phenomenal wine, we look forward to a long relationship with Chateau Montelena.  More importantly, as we explore other wines from around the world, we will always remember that Montelena started it all – both in Paris and for us.
Along with the warmer weather and longer days, we bring more good news to our wine-loving friends.  This Spring, we're pleased to release three new wines for your sipping pleasure: our 2008 Montelena Estate Cabernet Sauvignon, our 2009 Napa Valley Cabernet Sauvignon and our 2009 Montelena Estate Zinfandel.  To coincide with celebration season, barbecues and cook-outs or even just those random Tuesdays when you're craving a glass of really good red – these wines have arrived just in time for those instances.  With fantastic reception from our friends in the CellarMaster wine club, we're looking forward to sharing these wines with new friends and visitors to the winery.  Whether you want something to stash away in the cellar for a special anniversary or birthday or something deliciously smooth and versatile to enjoy at a dinner next week, there's a perfect wine for every palate and occasion.  Personally?  I can hardly wait for warm, late summer nights – those nights that beg for barbecuing with friends and family and enjoying a glass of our delicious Zinfandel.  Why the Zinfandel?  Well, I've found that it's great with summer fare like burgers, barbecued ribs and grilled veggies foods that are omnipresent during the months of June/July/August/September (it also pairs nicely with chocolate and I'm definitely not one to pass up that combo).  What are your spring sippers?