Category Archives:
Winery News
Bottle Shock & Chardonnay Experience
Learn about and taste the wine that made Chateau Montelena famous, see the location where the movie was filmed, discuss fact vs. fiction and take home a souvenir from your visit.
Offered by appointment on Thursdays and Sundays at 9:45 a.m.
Click here to make your Bottle Shock & Chardonnay Experience reservation today.
Can't make it to the winery?  You can watch Bottle Shock on DVD!
To celebrate the official recognition of Calistoga as an American Viticultural Area (AVA), we will be conducting three extraordinary public tastings.  The last of these tastings will be held on Saturday, April 24th. Purchase a tasting of our current release wines for $20 and for an additional $5 enjoy a taste of rare, older vintages of our Calistoga Cuvee: our 1995 and 1996 Calistoga Cuvee.
We hope to see you there!
2006 Montelena Estate Cabernet Sauvignon
Outstanding. "A beautiful, classic wine with loads of berry fruit, an earthy character, and a spicy, pure, rich finish." -92 Points

2007 Napa Valley Chardonnay
Outstanding. "Aromas of white peaches, apple skins, and crushed rocks presented in a fresh, medium-bodied, dry, zesty format." – 90 Points
2006 Napa Valley Cabernet Sauvignon
Very Good. "It possesses good berry fruit and seductive tannins. A very fine glass of Cabernet."- 87 Points
2007 Montelena Estate Zinfandel
Outstanding. "Already delicious, this medium to full-bodied Zin exhibits a darker ruby/purple color as well as a big, seductive nose of black cherries, briery mountain fruit, earth, pepper and herbs." -90 Points
Today, we released our 2006 Montelena Estate Cabernet Sauvignon and our 2007 Montelena Estate Zinfandel.  Come visit us at the winery, or at Press Club, to taste or purchase the delicious new releases.  For more information on these wines, and our other wines, we encourage you to visit our 'Wines' page to read our Winemaker's Notes.
Please visit us at Press Club, an "urban tasting room" situated on Yerba Buena Lane in San Francisco, adjacent to the Four Seasons Hotel.  We are proud to be an important participant in Press Club, which offers San Francisco visitors an opportunity to taste, purchase and enjoy wine from an exclusive variety of wineries not collectively available anywhere else in the world.
Press Club Hours
Monday through Thursday 2 p.m. – 9:00 p.m.
Friday and Saturday 2 p.m. – 12 a.m.
Closed on Sunday
Bo Barrett grew up with Chateau Montelena and their Napa Valley chardonnay and cabernet sauvignon. He talks with WineTasteTV.com about the importance of staying focused on details, quality, and the people who have built their brand.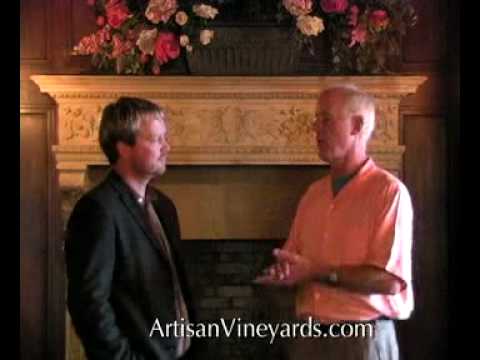 Wil Bailey talks with Bo Barrett about Chateau Montelena and the soil diversity among their Napa Valley vineyards.
CHATEAU MONTELENA RECIPE CHALLENGE 2012
RECIPE CHALLENGE RULES
1. Eligibility. NO PURCHASE NECESSARY TO ENTER OR WIN. PURCHASE WILL NOT INCREASE ODDS OF WINNING. RECIPE CHALLENGE OPEN ONLY TO RESIDENTS OF THE 50 UNITED STATES AND THE DISTRICT OF COLUMBIA (COLLECTIVELY, THE "U.S.") WHO ARE AGE 21 OR OLDER as of January 16, 2012. IF YOU ARE NOT A RESIDENT OF THE U.S., YOU ARE NOT ELIGIBLE TO WIN A PRIZE, AND CHATEAU MONTELENA ("CHATEAU MONTELENA") RESERVES THE RIGHT NOT TO AWARD PRIZES TO ENTRANTS WHO RESIDE IN OTHER JURISDICTIONS. To be eligible to win a prize, entries must be completed and received by CHATEAU MONTELENA in the format designated below. CHATEAU MONTELENA, all participating staff and any of their affiliates, directors, officers, professional advisors, judges, advertising and promotional agencies, employees and agencies (collectively, the "Participating Entities"), and immediate families of each are not eligible to win any prizes. All applicable federal, state and local laws and regulations apply. Offer void where prohibited or restricted by law. Limit one entry per category (as defined below) per person. If an entrant submits multiple entries that contain the same or substantially similar recipe, as determined by CHATEAU MONTELENA in its sole discretion, only the first such entry received by CHATEAU MONTELENA may be eligible to win a prize. No mechanically or electronically reproduced entries will be accepted.
2. Disclaimer. The Participating Entities will not be responsible for: (a) any late, lost, misrouted, garbled or distorted or damaged transmissions or entries; (b) telephone, electronic, hardware, software, network, Internet, or other computer- or communications-related malfunctions or failures; (c) any Recipe Challenge disruptions, injuries, losses or damages caused by events beyond the control of CHATEAU MONTELENA; or (d) any printing or typographical errors in any materials associated with the Recipe Challenge.
3. Entry Period. The entry period will be from 12:00 a.m. GMT Time, January 16, 2012 until 11:59 p.m. GMT Time, March 16, 2012 (the "Deadline"). All entries must be received by the Deadline to be eligible to win a prize.
4. Prizes.
(a) Grand Prize: One (1) Grand Prize winner will be selected from the four Category winners. In addition to the Category award (see "b", below), the Grand Prize winner will receive two invitations to our Annual Bacchanal, the Moveable Feast, to be held May 19, 2012.
(b) Category Prize: Four (4) Category Prize winners will each receive an invitation to a CELLARMASTER Private Tasting, Catered Picnic Lunch and Winery Tour, inclusive, at CHATEAU MONTELENA for up to four people. Private Tasting, Catered Picnic Lunch and Winery Tour will be awarded for one day by prior appointment on a space-available basis, during the period commencing April 15, 2012 and ending December 30, 2012. All Private Tasting, Catered Picnic Lunch and Winery Tour attendees and their guests must be age 21 or older at the time of the visit.
Odds of winning a prize depend on number of eligible entries received and the quality of the entries received, as judged pursuant to these Official Rules. ALL FEDERAL, STATE AND LOCAL TAXES ASSOCIATED WITH THE RECEIPT OR USE OF ANY PRIZES ARE THE SOLE RESPONSIBILITY OF THE WINNER.
All prizes will be awarded. Each prize award returned as undeliverable or otherwise not claimed within seven (7) days after first attempted delivery will be forfeited and awarded to an alternate winner. Prizes are not transferable. No substitutions or exchanges (including for cash) of any prizes will be permitted, except that CHATEAU MONTELENA reserves the right to substitute a prize of equal or greater value. Limit one prize per household or address. The prizes are awarded "AS IS" and WITHOUT WARRANTY OF ANY KIND, express or implied, (including, without limitation, any implied warranty of merchantability or fitness for a particular purpose).
In the event of a dispute about the identity of the entrant, entries made online will be declared made by the authorized account holder of the e-mail address submitted at time of entry. An authorized account holder is defined as the natural person who is assigned to an e-mail address by an Internet access provider, online service provider or other organization (e.g. business, educational institution, etc.) that is responsible for assigning e-mail addresses for the domain associated with the submitted e-mail address. The potential winner may be required to provide CHATEAU MONTELENA with proof that the potential winner is the authorized account holder of the e-mail address associated with the winning entry.
5. How to Enter.
To enter, go to http://www.montelena.com/news/?p=3360 and complete a Recipe Recipe Challenge Entry Form. All required fields, marked '*' must be entered completely to be considered.
By entering the Recipe Challenge, you consent to being placed on a mailing list for promotional and other purposes.
OR
You may type your recipe and personal information (please refer to submission form for details to include) and mail to:
Chateau Montelena
Attn: Recipe Challenge
1429 Tubbs Lane
Calistoga, California, 94515
6. Recipe Challenge Rules.
Create your own original recipe (an "Original Recipe") in one of the four (4) following categories: "Appetizers", "Salads or Sides", "Main Courses", and "Sweet Endings". Submit your Original Recipe according to the instructions described above. Each Original Recipe must: (a) be your own original creation, and not based on any other published recipe, (b) include a list of all required ingredients in specific, common U.S. household measurement units, step-by-step preparation instructions, and cooking times, (c) involve only ingredients commonly available at retail grocery stores or farmer's markets, and (d) not have won a prize in any other Recipe Challenge.
After the Deadline, a panel of judges selected by CHATEAU MONTELENA (the 'Judges') shall select one (1) Original Recipe from each Category that the Judges, in their sole discretion, determine to be the most apt, original and interesting Original Recipe for that Category (each, a 'Finalist Recipe'). CHATEAU MONTELENA will notify the entrants who submitted the Finalist Recipes (each, a "Potential Winner") that they been selected to receive a Category Prize. Each Potential Winner will be notified by telephone or e-mail. To be eligible to win a prize, each Potential Winner must respond within seven (7) business days of the first attempted notification following the instructions contained in the notification. Upon CHATEAU MONTELENA's timely verification of the Potential Winners' eligibility and receipt of completed affidavits, releases and publicity releases (as explained below), each Potential Winner shall be deemed a "Finalist." In the event a Potential Winner fails to timely respond to CHATEAU MONTELENA's attempted notifications, fails to timely submit completed affidavits, releases and publicity releases, or otherwise is determined by CHATEAU MONTELENA to be ineligible to win a prize, the Potential Winner will be disqualified from the Recipe Challenge and CHATEAU MONTELENA will select an alternate eligible entrant and his or her Original Recipe to be a Finalist. Finalists will be publicly announced on or about April 1, 2012.
After Finalists have been selected, the Finalist Recipes, Finalists' names, and city and state of each Finalist's residence (collectively, the "Finalist Information") will be made publicly available by one or more of the Participating Entities, such as through Internet websites, newspaper advertisements, and other methods of distribution, and used for promotional or marketing purposes, including without limitation a public vote on CHATEAU MONTELENA's Internet website to determine the public's favorite Finalist Recipe. However, the results of any such voting and other promotions shall not affect any Finalist's eligibility to win the Grand Prize or entitle any Finalist to any prize or special recognition. Finalist Recipes may be edited for content, clarity, length and/or consistency at CHATEAU MONTELENA's sole discretion.

The Judges will then evaluate each of the Finalist Recipes on a 100-point scale which the Judges determine to be the most apt, original and interesting according to the following criteria: Visual appeal (0-25 points); Taste of finished recipe (0-25 points); Originality of Recipe (0-25 points); Best interpretation of a Category theme (0-25 points). In the event of a tie, the Judges may select an additional judge to cast a tie-breaking vote. The Finalist who submitted the Finalist Recipe that receives the highest combined number of points shall be deemed the Grand Prize winner. Each Finalist shall be awarded a Category Prize. In addition to receiving a Category Prize, the Grand Prize winner shall also be awarded the Grand Prize. The Grand Prize winner will be announced on or about April 15, 2012.
7. CHATEAU MONTELENA Ownership of Entries. All entries and materials submitted to CHATEAU MONTELENA in connection with the Recipe Challenge (collectively, "Entry Materials"), along with all copyright, trademark and other proprietary rights associated therewith, become the property of CHATEAU MONTELENA upon submission, and Entry Materials will not be returned to any entrant. Without limiting the generality of the foregoing, you acknowledge that CHATEAU MONTELENA will own all rights to use, modify, reproduce, publish, perform, display, distribute, make derivative works of and otherwise commercially and non-commercially exploit the Entry Materials in perpetuity and throughout the universe, in any manner or medium now existing or hereafter developed, without separate compensation to you or any other person or entity. CHATEAU MONTELENAs use of the entry materials may include but shall not be limited to publication and archived in Chateau Montelena Blog. You agree to take, at CHATEAU MONTELENA's expense, any further action (including, without limitation, execution of affidavits and other documents) reasonably requested by CHATEAU MONTELENA to effect, perfect or confirm CHATEAU MONTELENA's ownership rights as set forth above in this paragraph 7.
8. Original Work of Authorship. You hereby warrant and represent that (a) you own all rights to all Entry Materials submitted by you; and (b) all such Entry Materials are original works of authorship on your part and have not been copied, in whole or in part, from any other work and do not violate, misappropriate or infringe any copyright, trademark or other proprietary right of any other person or entity.
9. General Release. By entering the Recipe Challenge, you release the CHATEAU MONTELENA and the Participating Entities from any liability whatsoever, and waive any and all causes of action, related to any claims, costs, injuries, losses, or damages of any kind arising out of or in connection with the Recipe Challenge or delivery, misdelivery, acceptance, possession, use of or inability to use any prize (including, without limitation, claims, costs, injuries, losses and damages related to personal injuries, death, damage to or destruction of property, rights of publicity or privacy, defamation or portrayal in a false light, whether intentional or unintentional), whether under a theory of contract, tort (including negligence), warranty or other theory.
10. Use of Winner's Name, Likeness, etc. Except where prohibited by law, entry into the Recipe Challenge constitutes permission to use winners' name, address, likeness and/or prize information, without limitation, for promotional purposes without further permission or compensation. As a condition of being awarded any prize, except where prohibited by law, winners may be required to execute and deliver to CHATEAU MONTELENA a consent to the use of their name, address, likeness and/or prize information, without limitation, for promotional purposes without further permission or compensation.
11. Affidavit & Release. As a condition of being awarded any prize, winners may be required to execute and deliver to CHATEAU MONTELENA a signed affidavit of eligibility and acceptance of these Official Rules and release of liability.
12. Winners List; Rules Request. Rules as stated herein may be downloaded from:
http://www.montelena.com/news/?p=3349
Winners List will be posted at:
http://www.montelena.com/news/?p=3360
By definition, a chateau is "a feudal castle or fortress" as well as "a vineyard estate." Fittingly, the word usually conjures up a vision of some magnificent fairy tale castle in the Loire Valley of France, or a sprawling landscape of perfectly aligned vineyard rows bursting with wine grapes.
Chateau Montelena Winery exemplifies both definitions of "chateau" – a vineyard estate with its own feudal castle. In 1882 Alfred L. Tubbs, the founder of Chateau Montelena, was determined to create one of the finest winegrowing estates, or "chateaus", in California. This project included the creation of "Hillcrest" – a luxurious 12 bedroom mansion for his residence – the "Chateau" – a massive two story stone wine cellar resembling a castle – and the "Vineyard Estate" – 250 acres of prime vineyards planted with cuttings from some of Europe's most renowned properties such as Chateau Lafite, Chateau D'Yquem, and the original Liebfraumilch vineyard on the Rhine.
Read more »