Category Archives:
Winemakers Updates
A few months ago a video production team visited the Chateau to interview Master Winemaker Bo Barrett and Vineyard Manager Dave Vella for a 7.5 minute piece that will air on PBS periodically. UltraMont member Tom Koch also makes a cameo, and talks about what keeps him refilling his glass with Chateau Montelena wines.
Enjoy!
Also posted in CellarMaster, Just For Fun, Vineyard, Winery News, Wines
|
Tagged Bo Barrett, Chateau Montelena, Dave Vella, Estate Cabernet Sauvignon, Napa Valley, Napa Valley Chardonnay, Paris Tasting, wine
The holidays are in full swing here at Chateau Montelena and our tasting room is lit up and looking as festive as ever – but goodness, where has the year gone?! That Indian summer we had certainly didn't help me adjust. So, needless to say, I find myself writing this with hardly half my shopping done and Christmas just two weeks away. Funny, because it seems every year I tell myself "next year will be different" and I vow never to do last minute shopping again…sound familiar? Or, are you just having an impossible time finding that perfect gift? (As lovely as another sweater is, sometimes I'm looking something a little more…er unique.)
May I suggest tickets to our 2nd annual HOUSE PARTY Saturday, January 26, 2013? Once again, we will open up the Chateau so that our guests can have the run of the place for one fantastic night filled with dancing, fine food and wine. The theme this year is Fire and Ice - we will be serving culinary adventures at tempting temperatures that you can enjoy with Montelena classics, special wines from our library collection and even a few limited-production winery-only wines. We are also adding a "Salon de Vin" this year where you can stock up on special wine bottlings and larger formats.
Courtesy of Chateau Montelena, visitors to the winery who drive electric-powered vehicles can now charge their batteries while they enjoy our hospitality. In partnership with Ecotality, the company that sells/markets EV charging stations that exist on the Blink Network, we have installed a Pedestal Charger, along with the first Level 3, DC Fast Charger in the Napa Valley. The DC Fast charger can charge most batteries in less than an hour. It will be tied into the Blink Network of charging stations throughout the country so that EV owners on the network will be automatically pointed to us as they make their way north of San Francisco. The DC Fast Charger is operating now, the Pedestal Charger will be operational in the near future.
The following article by wine journalist Bill St. John, which appeared in the October 25, 2012 Chicago Tribune, ought to set the record straight regarding sulfites in wine. It's definitely worth the read (perhaps with a nice glass of Montelena).
Sulfite's Headache is in Labeling
Fermentation By-product is in All Wine, but Only U.S. Requires Warning
This is the time of year when people tell me, as they return from their European vacations, that they drank bottle after bottle of wine with their meals and "never got a headache." They explain this miracle by saying that wines in Europe "do not contain sulfites," unlike wines sold in the U.S., the labels of which clearly state "Contains sulfites."
Because wine bottle labels in Europe do not print "Contains sulfites," the assumption is that the wine does not as well. But it does; the label merely does not state that it does.
"Contains sulfites" is on all bottles of wine sold in the United States, no matter where the wine was made, because of our government's regulations, rules that do not hold outside the U.S.
My sadly returning vacationers further claim that winemakers in other countries "must make a separate wine for export." They do not; the Antinori Chianti Classico that you drink in Tuscany is the same Antinori Chianti Classico that you drink in Toledo.
The reason that you didn't get a headache drinking it in Tuscany is that you were on vacation. In Tuscany.
Anyway, most people do not "get a headache" from ingesting sulfites.
The "typical allergic reaction to sulfites," says Dr. Mary C. Tobin, director of the Division of Allergy and Immunology at Rush University Medical Center, "is hives, itching, flushing, swelling, nausea, diarrhea and low blood pressure." All bad, but no headache.
Reactions to sulfites vary from mild to life threatening and affect a small percentage of the population (the FDA estimates one in 100, although up to 5 percent of the population of asthmatics). People allergic to sulfites by and large know that they are.
"Sulfite" describes a form of the common, natural, nonmetallic element sulfur. The preservative sulfur dioxide is another form of the element. Because sulfur is an antioxidant and anti-microbial, it prevents spoilage and browning in food and wine. What sulfur does for Tokay, it does for Tater Tots.
Furthermore, you cannot find a wine – any wine – completely free of sulfite. Sulfite is a natural byproduct of fermentation; around 5-10 mg/liter of sulfite exists in wine willy-nilly. Wine labels may state "No added sulfite" (sometimes seen on organic or so-called natural wines) but that is merely as true as it stands. The wine still contains some sulfite; none was added to that which occurred as matter of course.
The amount of sulfite in a bottle of wine will vary, depending on vineyard and winemaking practices, from 40-80 mg/liter. Again, these are levels in all wines conventionally made, from all regions of the globe. Wines that contain more than 10 mg/liter of sulfite must mention, again by our government's laws, "Contains sulfites."
To put sulfite levels in perspective or context, many foods contain sulfites but are not labeled so. For instance, bottled lemon juice, dried (orange) apricots, grape juice, many a salad bar and many a frozen white food (such as potatoes) that the processor wishes to remain white, all contain sulfite, often in amounts many-fold to that in wine.
So, why is there no warning label on a bag of trail mix? A good ol' American answer: politics.
According to Thomas Pinney, in the second of his two-volume work "A History of Wine in America," the congressional engine behind the sulfite warning label, finally enacted in 1986, was then-Sen. Strom Thurmond, of South Carolina, a teetotaler who once growled that "party animal" Spuds MacKenzie, the Budweiser bark-person with one black eye, was "glamorizing the use of alcohol" among young people.
Beginning in the 1970s, various neo-prohibitionist groups lobbied Congress for ingredient labeling on bottles of wine and other alcoholic beverages, with the ostensible aim of preventing such disasters as fetal alcohol syndrome. Stymied by the courts throughout the 1980s and prevented from passing into action such legislation, these efforts morphed into warning labels of one form or another, writes Pinney, "Only now the object was not to inform but to frighten."
Thurmond's crowning achievement was the passage in 1988 of the law that mandates the "government warning" label on all bottles of wine sold in the United States. You'll see it, sometimes, slapped on bottles of wine made in other countries but sold here, looking like the afterthought that it is considered to be by foreign winemakers.
It's the label that tells everyone what they already know, sort of like a sportscaster describing to you what you're currently watching: to beware of ingesting alcohol if you are pregnant or about to operate a machine.
Reading it always gives me a headache.
Have you ever wanted to sample our Estate Cabernet Sauvignon before it's bottled?  Well, now you can.  For the month of October (or while supplies last), we'll be offering a complimentary barrel sample of our 2010 Montelena Estate Cabernet Sauvignon when you purchase a tasting of our current wines.  This offer is available exclusively at our San Francisco location in the lobby of the Westin St. Francis on Union Square – in the Landmark Lobby across from the Grand Staircase.  This will be the only opportunity to sample this wine before it's cellared and released in 2014.
As our CellarMaster Futures members can attest, this is a wine that rewards you after a few (or 25-30) years in the cellar.  By purchasing it before it's released, you're guaranteed to be able to fill your cellar with a few bottles of this incredible wine and you'll also enjoy the most advantageous pricing available.  So, if you stop by our San Francisco Tasting Room and you like what you taste, be sure to ask us about our Futures program.
Happy Wine Tasting!
So what is a "summer wine?"  Well, the snarky (but accurate) answer is that a "summer wine" is whatever happens to be in your glass from June 20th to September 21st.  However, most of the time we're talking about anything that is light, crisp, and refreshing – a wine that can benefit from a bit of time in the refrigerator (or even – *gasp* – the occasional ice-cube in the glass).  For me, most often that means Sauvignon Blanc nice and frosty right out of the 'fridge.   In fact, I think one of the things I like the most about this wine is that whenever I have a sip of it, no matter what time of the year it may be, it always conjures up visions of relaxing on warm summer evenings with family and friends.
Close runners-up for summer time R&R are Riesling and Rosie – little known fact: we make a fantastic rosé, but it isn't available for purchase, sorry, we make it just for our owners and employees – which are both exceptional end-of-the-day thirst quenchers and also pair beautifully with that other great American summer tradition, barbeque!   Try the Riesling with some Memphis style ribs – you'll be pleasantly surprised; the Sauv Blanc, on the other hand, is a great match for barbequed oysters.   As far as the Rosie goes, it is a small production rosé of Zinfandel that is great with grilled pork chops.   Maybe someday we'll make enough to share…   Now, don't worry, I'm not leaving out the Chardonnay, and no it is not 4th place on my summer (or any other) list, but it is far too versatile to be pigeon-holed as a "summer wine."  I love a cool glass of Montelena Chardonnay anywhere and (just about) any time – with delicate sable (butterfish) in August, or herb crusted roast chicken in January – it is always a great choice.
What will you fill your glass with this summer?
Brett (aka brettanomyces) has been a great friend of mine for a long, long time.  But some people misunderstand and steer clear of it, thinking Brett can only be a dominating, ruinous stinker that smells like wet barnyard.  Some get scared, even paranoid, and want no trace of Brett in their lives.  Not I, because I know Brett can be managed to show character in wines, and some quite unique qualities, especially in small doses.  Too much?  No thanks.  None at all?  No way – wine is just not the same without some Brett.  To each his own, I say.  Did you know that the French have been friends with Brett for ages?
Do you know Brett?  Do you enjoy it in your wines?
Today marks the beginning of Auction Napa Valley 2012, the Napa Valley Vintner's annual charity fundraiser, and it's shaping up to be a very exciting weekend, indeed.  The weekend will include four glorious days of celebrating the best of Napa Valley – everything from private winemaker dinners to elaborate parties and more than 250 different lots on which one can bid (both here in Napa and online from the comfort of your home!). Auction Napa Valley is a not-to-be-missed weekend for wine lovers, vintners and avid wine collectors from around the world.  The event is always held the first weekend in June and the proceeds from the auction will benefit health, youth and affordable housing non-profit programs in the area.  We're excited to announce that we're participating in two lots this year: one e-auction Lot (which you can bid on from a computer/mobile device anywhere you might be) and one very exciting live auction lot that includes a private concert and might inspire you to clear some room in your cellar - in a partnership with Chappellet, Garguilo, Raymond, Shafer and Silver Oak.
So for those of you feeling lucky this weekend, you may consider bidding on E-Auction Lot #379 which includes spectacular wines from such Calistoga winegrowers as: Araujo, Barlow, Canard, JAX, Jones Family, Kenefick Ranch, Summers Estate, The Grade, Zahtila and, of course, Chateau Montelena Winery.  The bottles, from all participating Calistoga winegrowers, will be presented in large format sizes.
And for those of you planning to be in Napa Valley this weekend and those planning to attend the live auction on Saturday at beautiful Meadowood, keep an eye out on Lot #35 which includes wines from celebrated Napa Valley producers and a private concert from Lady Antebellum for you and your closest friends.  As if that weren't enough, the winner will also be flown to London for a private tour of the band's recording studio and another opportunity to enjoy Lady Antebellum in concert…in London.
Good Luck!
Will you be bidding?  If so, on which auction lot?
You may remember Jeff's blog post from last spring about English actor Jeremy Irons' visit to the winery.  Last April, he and a film crew descended upon our winery to film a segment with our Vineyard Manager, Dave Vella, for an upcoming documentary about America's problem with excessive waste.  Well, friends, the wait is finally over.  We've just received word that the film, appropriately titled "Trashed," will be premiering at the renowned Cannes International Film Festival this week.
The story of garbage…American style. A provocative investigation of one of the fastest growing industries in North America. The garbage business. The film examines a fundamental element of modern American culture…the disposal of what our society defines as "waste." It is an issue influenced by every American, most of whom never consider the consequences. Nor, it seems, the implications to our biosphere. At times humorous, but deeply poignant, "Trashed" examines the American waste stream fast approaching a half billion tons annually.
Now, you may be curious as to why Chateau Montelena is featured in the film – it's a perfectly fair question.  You may or may not know that the winery and vineyard team work to farm our vineyard in a sustainable way – from the careful selection of crop covers that re-introduce nitrogen and enhance the health of the soil, to the use of solar panels and solar energy that help to power all of our activities and even the reclamation of compost from winery by-products and San Francisco restaurants for cultivating our soil with beneficial microbes and enhancing the soil's air circulation.  The film, which not only focuses on America's trash problem but also discusses the importance of sustainability, showcases how Chateau Montelena strives to be a green and sustainable property.
Here's the official movie trailer – and be sure to look for Dave's cameo at the end of the clip!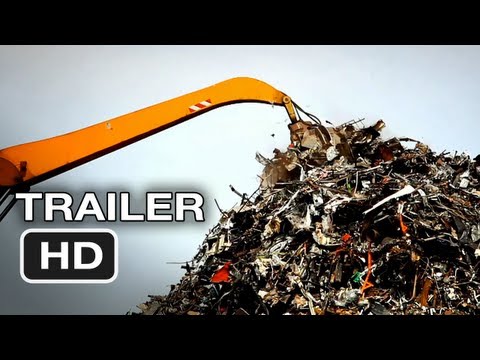 For those who waited till the day before an exam and then crammed – it didn't work, did it?  If you waited till the last day of a clothing sale, you've probably often found the inventory to be limited to sizes of except Small and XXL.  Well, it works that way here too!  With a small harvest, our 2008′s are either gone, or going fast!  Well, many current releases as well.   The 2010 Riesling?  Gone.  Our 2008 Zinfandel? Gone.  And 2008 Napa Cabernet and 2007 Estate Cabernet? Going very, very soon.
I blinked and then they're gone.  Will we have wine to sell? Yes, we will; but if you have a library or would like to continue your vertical, don't wait till the last-minute!