Category Archives:
Vineyard
Upon returning to the office Monday morning, we were greeted with an email from a customer about an experience he'd had with one of our wines over the weekend.  The wine in question: our 1976 North Coast Cabernet Sauvignon.  He writes:
Gentlemen,

Last night I had a small dinner at my home in Healdsburg, CA, in order to honor a friend, and to try out some Napa "Cult" Cabs I had assembled.  Screaming Eagle, Harlan Estate, Bryant Family etc…. But the most amazing surprise was a 1976 Chateau Montelena Cabernet Sauvignon North Coast (I've attached a picture of that) … wow!  Whoever made that wine should be very proud, it's drinking wonderfully, even after 35+ years!  Please give my regards to the Barretts and anyone else who had a hand in that very fine bottling. What a pleasure, I'm a winemaker myself, and I just had one of the best wines I've ever had. Bravo!
As you might imagine, it was a pleasure to find this email in our inbox Monday morning and to know we were included in a tasting with such wonderful wines.  We love hearing from our customers about their memorable experiences with our wines.
What was the best bottle of Chateau Montelena wine you have ever had and who did you enjoy it with?
Well, it felt like Summer was in high form this past weekend as we hit triple digits in the Napa Valley.  According to the seasonal calendar, summer doesn't actually start until tomorrow but that's California for you!  It's not a very predictable state. I remember many years ago watching weather reporters on the local news seemingly always getting the weather predictions wrong.  As a young teenager, I figured, this is science - there's factual data to look at (and we can we travel to space) – so how can we not get weather right?  Today, however, I think they do a pretty good job.  Case in point: they predicted 100 degrees in St. Helena; it hit about 101 degrees.  They predicted a drop off Sunday to about 88 degrees; it was 89.
Anyways, this Summer season is starting off unlike the last two years where we saw rain and cool days as late as June and July.   I think this will be a great year for the vines (and my garden..more to come on that)!
How's Summer shaping up in your area?
Is Napa still considered Bay Area? I'll say yes.  Some define the Bay Area as the outreach of BART (for those unfamiliar with the acronym, that's our train system here).   Napa County still touches part of the Bay waters – the San Pablo Bay waterway that borders the Carneros District – and provides a nice cooling effect for the varietal of grapes that prefer lower temperatures that are grown in that region.
In any case, as a sports fan, foodie, and wino, there's no better place to be than here in Napa this weekend.  Our Giants are on a winning streak – Matt Cain pitched a perfect game yesterday; the US Open comes to town; summer season fruits are here, so Farmers' Markets are bustling; and of course, there's always the wine country beckoning for a visit.  It's the quiet before the storm – just before the high season of visitors begins here at the Chateau, so we're relatively quiet for now.  Not to mention, three new restaurants opened up in the little town of St. Helena…
Apart from anticipating the weekend's searing heat, it's a great time to be in the Bay!
Brett (aka brettanomyces) has been a great friend of mine for a long, long time.  But some people misunderstand and steer clear of it, thinking Brett can only be a dominating, ruinous stinker that smells like wet barnyard.  Some get scared, even paranoid, and want no trace of Brett in their lives.  Not I, because I know Brett can be managed to show character in wines, and some quite unique qualities, especially in small doses.  Too much?  No thanks.  None at all?  No way – wine is just not the same without some Brett.  To each his own, I say.  Did you know that the French have been friends with Brett for ages?
Do you know Brett?  Do you enjoy it in your wines?
You may remember Jeff's blog post from last spring about English actor Jeremy Irons' visit to the winery.  Last April, he and a film crew descended upon our winery to film a segment with our Vineyard Manager, Dave Vella, for an upcoming documentary about America's problem with excessive waste.  Well, friends, the wait is finally over.  We've just received word that the film, appropriately titled "Trashed," will be premiering at the renowned Cannes International Film Festival this week.
The story of garbage…American style. A provocative investigation of one of the fastest growing industries in North America. The garbage business. The film examines a fundamental element of modern American culture…the disposal of what our society defines as "waste." It is an issue influenced by every American, most of whom never consider the consequences. Nor, it seems, the implications to our biosphere. At times humorous, but deeply poignant, "Trashed" examines the American waste stream fast approaching a half billion tons annually.
Now, you may be curious as to why Chateau Montelena is featured in the film – it's a perfectly fair question.  You may or may not know that the winery and vineyard team work to farm our vineyard in a sustainable way – from the careful selection of crop covers that re-introduce nitrogen and enhance the health of the soil, to the use of solar panels and solar energy that help to power all of our activities and even the reclamation of compost from winery by-products and San Francisco restaurants for cultivating our soil with beneficial microbes and enhancing the soil's air circulation.  The film, which not only focuses on America's trash problem but also discusses the importance of sustainability, showcases how Chateau Montelena strives to be a green and sustainable property.
Here's the official movie trailer – and be sure to look for Dave's cameo at the end of the clip!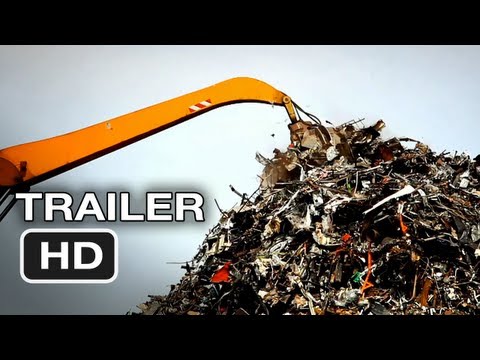 Ok, after a couple months off (and no, I wasn't "off"), I'm now back on the blog.    Over the last few months, we overhauled some of our computer systems, and now that the work is complete,  I'm able to blog again. Truth be told, I wasn't sure I'd continue because I was not sure if there were readers out there.  It's funny how you only hear about things when you stop writing and I learned that I, indeed had loyal readers. Reminds me of when I've moved in the past – neighbors who I barely knew or said 'hello' to would come to the moving truck and tell me, "I can't believe you're moving, we're sorry to see you go…"   And my response: "And who are you?"
Anyways, I'm back online; but busy getting the party of the year going, Movable Feast 2012!  Hope you got your golden ticket; the event's been sold out for weeks now!  Curious to know how you can join us next year?  Become a CellarMaster and enjoy an afternoon in the sun with great wine, fantastic food, the entire Montelena Family and plenty of Montelena Estate Cabernet pulled from our library collection just for this once-a-year festive occasion.
Our vineyard crew is busy pruning the vines, so I visited with Bo in the Estate Vineyard to witness some of the trimming process, an annual task that takes weeks to complete. Important cutting decisions are made along the way. In one case, it involved literally sawing off a large branch on an older (1973) vine to allow another, better-positioned cane to take over for high quality grape production. I saved the piece Bo sawed off because I thought it would look cool in my office. After a while, it looked to me like a seahorse smoking a cigar. Any other ideas?
The oldest block of Cabernet Sauvignon in the Estate Vineyard has been pulled for replant.  Block 1A, situated in mostly sedimentary soil – in fact, the only area in the Estate Vineyard where sedimentary soil occurs  – was planted in 1973, just after Jim Barrett acquired the property.  For those of us who see the vineyard on a daily basis, the first impression is always "something's missing" from this picture.  But we also know that what's to come are new Cabernet Sauvignon grapevines, a new generation of fruit for the next generation of Chateau Montelena.  It's all part of our ongoing replant program designed to grow the best fruit we can as stewards of this incredible property.
Wanting to pull out that 2008 Napa Valley Cabernet at sunset for friends? A perfect small bite to pair with this sumptuous red is a plate of warm gougères just out of the oven. Gougères traditionally are made with a choux pastry base. But who wants to fuss with making the pasty when guests are on the way over? Puff pastry sheets fit the bill. The versatility of this product should never be underestimated! The pastry sheets thaw quickly and can make easy work of impressing family and friends.*
Faux Gougères
Pre-heat oven to 400 degrees and center a rack in the oven.
Thaw one sheet of puff pastry in fridge or on the counter as directed on the package.
On a lightly floured stone counter top, roll the pastry to an 8 x 12 inch rectangle.
In two separate bowls, mix:
-one egg white and 2 T. milk
-any mixture of 3 T ea: sesame seeds, poppy seeds, dried thyme, dried marjoram, madras curry, dried dill, minced dried onion or shallot. Put together what pleases you. Add to this bowl: 1/3 c. grated gruyere or dry Vella Jack cheese, and a dash of black pepper or cayenne.
Brush the rolled square of pastry with the egg white mixture; then liberally sprinkle the mixture of herbs, seeds and cheese over the pastry. Press gently with your rolling pin, using a light touch.
Using a very small cookie cutter (1.25 inch diameter, or the top of a shot glass), stamp out the shapes. This should yield at least 2 dozen gougères.
Bake on a silpat mat or ungreased cookie sheet for 18-20 minutes, or until puffed and golden. These yummy bites freeze beautifully for up to a month…cool completely before wrapping and freezing. Reheat frozen gougères @ 400 degrees on a cookie sheet for 8-10 minutes, until warm and slightly crisp.
*Tip: Keep the boxes of puff pastry frozen until you're ready to use. You can put a box in the fridge up to a day ahead if you like, but after a few days the sheets will develop a sour taste and will fail to rise properly.
Up here at Chateau Montelena, we like to think that we know a good idea when we see one, even if it sometimes takes us awhile to get on board. So, in what is proudly a blatant rip-off of the Schramsberg "Harvest Dress", we present to you the "Harvest Hat!" A real gem that I found in Chinatown and just couldn't pass up – who doesn't love a fuzzy white pig? The rules are the same as for the dress – wearer must have done something to deserve it. In this instance one of our interns (Matt Johnson), in a case of bad judgment, failed to hang the "man in press" sign on the outside of the press while cleaning it, so now he gets to wear the hat as a reminder to himself and the rest of the staff to follow the rules for their own safety. Goes nicely with his outfit, don't you think?
On the more serious side, today was our 3rd day of fruit this year, and we've got just shy of 60 tons in so far. All white grapes to this point (Chardonnay and Sauv Blanc), but we're looking at potentially harvesting the first few tons of Estate Cabernet Sauvignon tomorrow. Today's hot weather is moving everything along quite nicely, and should help push several blocks into pickable condition. Rain next week? That's the next big question…
Stay tuned and happy harvesting!