Category Archives:
Just For Fun
With the holidays quickly approaching, I'm getting excited for family and friends to visit and enjoy some great vino. This year, I've decided to have a little fun with it – I'm going to pick up some wines and make my own version of an Advent Calendar…an Advent Wine Calendar, if you would. I will randomly number each bottle of wine for one of the days leading up to Christmas!
What fun and creative ideas will you come up with for the upcoming holidays?? Leave a note in the comments section.
Cheers!
The Fall has been extended and mild this year, temperatures hanging in around the sixties and seventies for most of the last two months.  I have been doing a lot of walking in the vineyard and enjoying the wild life.  There is a pair of great egrets that have been spending a lot of time here, fishing along the shore of Jade Lake or flying up into the willows on the islands. They are so beautiful.
There is also a pod of four river otters that have joined us.  They seem to spend a lot of time in a luxurious  fur bundle on the back of the raft.
So, the last time I posted it was summer and I was lolling in my hammock making plans for Thanksgiving. Now Thanksgiving is next week!  George is right, the older you get the faster the time goes by.  Three of my sisters and one of my brothers are coming with their respective spouses.  It will be nice to spend a quiet Thanksgiving with my family.  I will be picking up the turkey on Tuesday and have handed out the cooking assignments – salad, vegetables and dessert – to everyone else.  I have already laid in a supply of the Potter Valley Riesling and will be picking up some zinfandel, both great with turkey. They will all be arriving on Wednesday and I am looking forward to a long, relaxed weekend.  It should be fun.  Although it wasn't planned this way it turns out that it will be just my siblings without nieces, nephews, grand-nieces and grand-nephews; just a great bunch of people sitting around remembering the Thanksgivings we had together as kids – Happy Thanksgiving to all.
Vintage Vespa's have been an obsession of mine since 1984 when I bought my first 50cc scooter.  At a breakneck top speed of 35 mph, I found all of the back roads here in the Napa Valley that would accommodate that speed and range of a gallon of gas.  Over the years I have acquired many scooters and found the 150cc to 200cc models offer the perfect displacement for some of the roads less traveled. In fact, with a scooter's small wheels and nimble turning radius, the Napa Valley Hills provide some of the best twisties for any scooter enthusiast.
As a founding member of the Napa Valley Scooter Club in 2003, I work with the Club to put on a yearly rally where we invite other scooterist from around California to enjoy what we at Chateau Montelena enjoy on a daily basis.
The latest incarnation of this rally is called the Twisted Vine Scooter Stomp.
Here is a road map of our 2013 Twisted Vine Scooter Stomp
Here is a video of 2013 ride.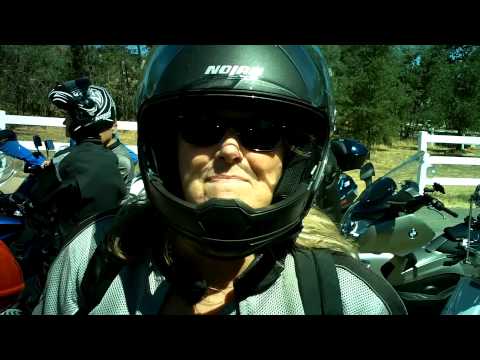 Have your own favorite scooter or motorcycle ride in the valley?
Leave your comments below and I will give it a twist.
There are many great reasons to visit Chateau Montelena, first of which is the wine. But for me, it's about the history and experience. Everyday, we get to learn something new, some uncovered bit of history, some tribal knowledge handed down from our winemakers, managers or salty local.
We also get to experience the majesty of  Jade Lake, which lies beneath the Chateau, and all that it attracts…namely a family of river otters that have been gorging themselves on the aquatic life. My first encounters were of what they left behind…bright orange droppings all along the shores of Jade Lake. But the last two weeks, they have been very active in the water, playing and diving and swimming right up to curious visitors. I walk my dog, Bruno, twice a day along Jade Lake and these little guys frolic in the water and stop long enough to peer at you as you pass on by or take their picture. It's great to see some extra wildlife along with the Australian Black Swans, Mallards, Herons and crawfish.
So, as you come by to taste the wines and take pictures in front of the castle, keep in mind that there is also lots of history and wildlife to indulge in as well. Who knows, you may even spot the river otters sunning themselves on a catamaran yourself.

Every year, we put on an exclusive event for our UltraMont wine club members.  This small group represents the highest tier in our membership structure.
Two weekends ago, we hosted this event, which was a day and a half affair.  It started with a welcome reception at Judy Barrett's home.  She is one of the owners of Chateau Montelena Winery.  We were truly appreciative to have this opportunity and our UltraMont members were over the moon.  Judy was a very gracious hostess and was seen often helping out in the kitchen.
Our event continued with an educational component where our members learned what types of wood are used to make a barrel, how to make one as well as how the different woods can affect the taste of the wine.  The day portion ended with a lunch and then our members had ample time to relax and enjoy the Valley on their own.
The event culminated with our first ever formal dinner.  The Harvest Moon Dinner Dance was offered in a tented space at the winery.  All of the members, including the staff, dressed for the occasion.   We even had our own paparazzi and red carpet.  Fantastic food from one of our own CellarMaster members, Tony Spleen.  And rockin' music from the band, The Special Guests.   A good time was had by all!!!
We look forward to seeing our UltraMont members again next year.   Who knows…this might be a tradition!
San Francisco! A beautiful multicultural metropolis located between the Pacific Ocean and the ever-changing bay of the same name.  In many ways "The City" as many of us affectionately refer to it, could be considered the gateway to the California wine country. These days a 25 minute drive from SFO in almost any direction will land you on the door step of a plethora of places that will proudly serve you anything from a small sample to a full glass of the life-blood that has given rise to a truly global industry. While wine has permeated all four corners of the globe and is now produced in all 50 of the United States, few people realize that up until 107 years ago, San Francisco was among the major hubs of wine production in California and the US. You see, starting with the gold rush of 1849 and the proliferation of grapes being planted in northern California by many of the immigrant gold seekers, California enjoyed a quick growth in wine production. However, in order to stay close to points of distribution, which in those days was still mainly by ship and rail, wineries were mostly located in the city of San Francisco, as it was a major port and hub for trains and ships.
Fast forward to 1906; San Francisco and the surrounding Bay Area was rocked by a 7.7 magnitude earthquake. Among the destruction were many of the wine making facilities located closer to the bay. During the recovery process and encouraged by growing technology for transportation, many winery owners decided to build or rebuild closer to where grapes were grown in the surrounding  valleys, joining others, like  our founder Alfred Tubbs and Chateau Montelena, who had smartly made this decision in the first place.
Today, the Bay Area wine industry has come full circle and once again wine is being made closer to and in the city-by-the-bay. Beginning 5 years ago, Chateau Montelena became part of this growing trend when we opened our first San Francisco tasting counter at Press Club in September of 2008. After much success there, we relocated our tasting room to the historic Westin St. Francis hotel in Union Square and opened full time 2 years ago. By partnering our two historic brands, we continue the growing trend of bringing wines out of the valleys and back to the people in San Francisco.
Often times we've heard from people about how limited their time is when visiting the city, and despite being only 60 miles away, Napa Valley often is just out of reach. For us specifically, we recognize that being at the very top of the valley makes it difficult for some people to make it to see us, even when already in Napa.
So we took a page from history and have brought our wines to where the people are! We offer the same tasting room experience as if you were visiting the winery with the convenience of being able to stay in San Francisco. We offer a tasting flight, bottle purchases, the ability to have your wine selections shipped home for you and a variety of winery souvenirs.  We're open from 1:00 pm to 8:00 pm Wednesday through Saturday and our tasting room is staffed with a knowledgeable winery representative who is happy to take you through our flight and offer a variety of insight into the world of wine and Chateau Montelena's place in it.
We also love to see our wine club members who might be visiting San Francisco as well as any of you who live in or around the city. All of your member benefits apply in our San Francisco tasting room just as they would up at the winery itself. If you're not yet a member, come by either tasting room to find out all of the benefits our Cellar Master club has to offer.
The next time you find yourself in San Francisco and are craving a sip of something from Montelena, please stop by and see us. We're located just off of the lobby in the Westin St. Francis Hotel: 335 Powell St. San Francisco, 94102.
Cheers!
Here we are in the middle of the dog days of summer and I am feeling very subtle hints of fall creeping into my subconscious. The days are getting ever so slightly shorter; there is a crispness in the air when I get up in the mornings and a softness to the light in the evenings that make me think of changing leaves and – THANKSGIVING! It has been 10 years since I had my family come to my house for Thanksgiving and I have decided that it is my turn again. I need to start extending the invitations now, before everyone has already made other plans. After I get all the invitations out it will be time to join the doggies in the hammock, sip some Riesling and start making plans. Not a bad way to spend time as summer comes to a close and fall begins.
I am a dog lover – animal lover really – and as I travel the Valley doing tastings of my own, I've seen an increase in dog friendly wineries. Dogs are commonly viewed as people's kids and they take them everywhere – on vacation, to the grocery store, to the department store, to work…everywhere. We even have a few here at the winery, 3 to be exact.

Now dog friendly doesn't always mean the same thing at each winery. Here at Montelena we say bring on the dogs! But please not in the tasting room (service dogs are welcome). There are beautiful grounds to walk them and we even have created at safe and convenient "Dog Parking" area right outside the tasting room. As you can see in my picture, these 3 cuties are patiently waiting for their mommy or daddy to finish up tasting. Some wineries allow the dogs in the tasting area, mingling amongst the guests, looking for that belly scratch or ear rub, but to be honest, not everyone is a dog lover and we try to be considerate of that.
Here is something fun to try with your friends or family. Each month my Fiancé and I get together with some friends/family and someone will host a dinner and the rest of us will bring the wines. We pick a certain varietal or region and each couple/person has to bring something between $5 – $50. We bag up the wine bottles so nobody knows what each wine is, and pour them into a set of glasses in front of each person. Everyone gets a glass for each wine; so, if 5 wines were brought in, then each person has 5 glasses. Next step: pour and taste! We rate the wines 1 through 5 – 1 being your favorite and 5 being your least favorite. We also have a pad of paper and a pen to make notes. Once everyone is finished, we go around the table and tally up the numbers for each wine. The three lowest scoring wines are determined and the persons responsible for bringing those wines get a little prize. We uncover all the wines and go around the table to see who brought which bottle. Performing fun little tastings like this are great because you get to try a couple of wines, all at different price points, and you just might surprise yourself or the rest of the group with the winners.
Each month you get to pick different wines, paired with new meals, and you can even pick wines from a particular region. Or, have people bring the same varietal but from different regions.  Have fun, and best of all, enjoy the wines and good times to be had with those close to you!